LOGOTYPES
Our brand name HAGS Vietnam was derived from the founder's initials – Hultgren, Andersson and Gustafsson.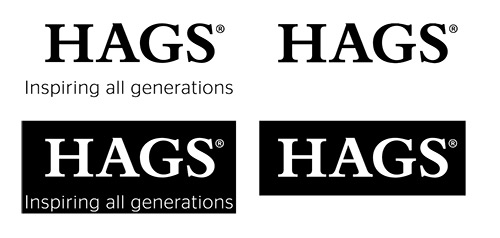 Logo treatment
HAGS Vietnam logo is available in 2 colour options and 2 versions; with or without the tagline "Inspiring all genereations". When printing the logo on light backgrounds, use the black logo. When reproducing on a darker colour background, use the reverse, white version of the logo.
The following points must be considered in relation to logo usage:
The logo must not be scanned, recreated, or used in part.
The CMYK and PMS colour formulas must not be altered to ensure consistency.
The logo must not be stretched, compressed, or otherwise distorted.
Contact Us
POLAND OFFICE
Adress: Building E, Wisniowy Business Park, UI Ilzecka 26, 02-135, Warsaw, Poland.
Tell: +48 221 530 191
Email: [email protected]
VIETNAM OFFICE
Address: No 38 Ven Ho Ha Dinh street, Ha Dinh ward, Thanh Xuan district, Hanoi, Vietnam
Tel: +84 24 66 73 3777 – +84 24 66 73 9777
Email: [email protected]
Opening hours for HAGS switch board
Mon - Fri 8:00AM - 5:30PM